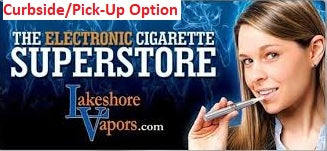 Curbside/ Pickup options.     
Pick up/ Curbside Option 
We are offering a pick up option. 
How this works 
1. You can place an order on the website with option pick up. 
You can call, e-mail, text, facebook, messenger us your order. 
2. If we have your payment information on file, you are all set. We will advise you when your order is ready for pick up.  
If you are paying cash, we ask that you have the exact amount to minimize contact. We will advise you your total and when your order will be available for pick up.  
If you need to set up payment information. You can call,  text. Email, us your information to put on file. 
We can also send you an invoice to pay online, once this is paid we will process your order.  
3. We will contact you when your order is ready for pick up. 
4. Pick up location is a few doors down from Lakeshore Vapors. The Rec Room is a local health food supplement store, with great food for take out. They are letting us leave orders there to be picked up. Please be respectful and use social distancing when using this option. 
MUST BE PICKED UP by 6:45 PM OR WILL BE AVAILABLE THE FOLLOWING DAY AFTER 10 AM. 
We will take orders on Saturday and Sunday but Pick up Is not available until Monday. 
 WE ARE SHIPPING ORDERS DAILY! Local orders are delivered within 2 days.  

USE CODE STAYHOME FOR FREE SHIPPING on orders over $20             
COVID-19 

Due to the new Corona Virus Restrictions from our governor, We have forwarded the phone lines to our home and will be available to take phone orders or answer any of your questions. You can also reach out to our E-Mail with any questions or concerns.  If you are in desperate need of supplies, we will do whatever we can to get you your vapor supplies, Kratom and CBD needs.

Phone-231-747-9705

E-mail- lakeshorevapors@yahoo.com
Free shipping over $20 Stayhome

 Please plan ahead,  We understand these are difficult times and we are trying our hardest to keep our customers supplied. If you are in emergency need of supplies, please contact us for a scheduled Pickup. 

We offer phone orders 231-747-9705,

E-Mail orders LakeshoreVapors@yahoo.com

Website Orders at LakeshoreVapors.Org

  We accept credit cards or can Send you an invoice to pay via E-Mail.

LAKESHORE VAPORS

The Pointes Shopping Center

1046 East Sternberg Rd

Norton Shores, Michigan

49444


Product Safety The CDC, WHO, and the Surgeon General have all indicated that there is currently no evidence that COVID-19 is being spread through the mail. When mailing and shipping with USPS, you can feel secure knowing that your mail pieces and packages are safe and that employees are practicing the following safety guidelines:
Following social distancing measures among customers when delivering packages and obtaining signatures 
Maintaining appropriate hygiene protocols such as frequent handwashing Disinfecting and sanitizing frequently touched surfaces